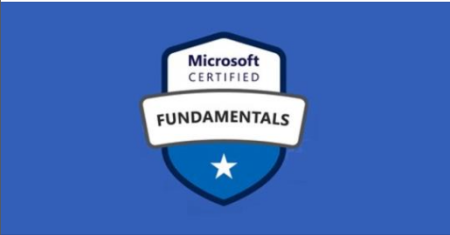 Genre: eLearning | MP4 | Video: h264, 1280x720 | Audio: aac, 44100 Hz
Language: English | VTT | Size: 4.59 GB | Duration: 7 hours
Any one who wants to put their feet wet with Cloud Computing and get their cloud fundamentals right .
What you'll learn
Candidates with non-technical backgrounds who are interested in learning about the cloud
Candidates with technical backgrounds who are interested in getting more advanced certs in the future
Participants from Management and Senior management who would like know the benefits of cloud computing ( Azure )
Students who wish to start learning how to use the Azure Platform
Requirements
Curious to learn Microsoft's constantly growing cloud platform
Basic IT knowledge on Networks , databases etc
Basic understanding of usage of servers and their reason of existence
Description
Update : 12-02-2019 - Practice Test Added at the end of the course
This exam is designed for candidates looking to demonstrate foundation level knowledge of cloud services and how those services are provided with Microsoft Azure. The exam is intended for candidates with non-technical backgrounds, such as those involved in selling or purchasing cloud based solutions and services or who have some involvement with cloud based solutions and services, as well as those with a technical background who have a need to validate their foundation level knowledge around cloud services. Technical IT experience is not required however some general IT knowledge or experience would be beneficial.
This exam can be taken as an optional first step in learning about cloud services and how those concepts are exemplified by Microsoft Azure. It can be taken as a precursor to Microsoft Azure or Microsoft cloud services exams. While it would be a beneficial first step, validating foundation level knowledge, taking this exam is not a pre-requisite before taking any other Azure-based certifications.
In this course, You would find detailed explanations along with lab demonstrations for the services in Azure. There are review questions after every chapter and this would test your understanding chapter by chapter.
Here is the Agenda of the Az 900 Microsoft Azure Fundamentals Certification
Module 1 : Understand cloud concepts (15-20%)
Describe the benefits and considerations of using cloud services
· understand terms such as High Availability, Availability, Elasticity, Agility, Fault Tolerance, and Disaster Recovery
· understand the principles of economies of scale
· understand the differences between Capital Expenditure (CapEx) and Operational Expenditure (OpEx)
· understand the consumption-based model
Describe the differences between Infrastructure-as-a-Service (IaaS), Platform-as-a-Service (PaaS) and Software-as-a-Service (SaaS)
· describe Infrastructure-as-a-Service (IaaS)
· describe Platform-as-a-Service (PaaS)
· describe Software-as-a-Service (SaaS)
· compare and contrast the three different service types
Describe the differences between Public, Private and Hybrid cloud models
· describe Public cloud
· describe Private cloud
· describe Hybrid cloud
· compare and contrast the three different cloud models
Module 2 : Understand core Azure services (30-35%)
Understand the core Azure architectural components
· describe Regions
· describe Availability Zones
· describe Resource Groups
· describe Azure Resource manager
· describe the benefits and usage of core Azure architectural components
Describe some of the core products available in Azure
· describe products available for Compute such as Virtual Machines, Virtual Machine Scale Sets, App Service and Functions
· describe products available for Networking such as Virtual Network, Load Balancer, VPN Gateway, Application Gateway and Content Delivery Network
· describe products available for Storage such as Blob Storage, Disk Storage, File Storage, and Archive Storage
· describe products available for Databases such as CosmosDB, Azure SQL Database, Azure Database Migration service, and Azure SQL Data Warehouse
· describe the Azure Marketplace and its usage scenarios
Describe some of the solutions available on Azure
DOWNLOAD
uploadgig
Code:
https://uploadgig.com/file/download/e140d4318abdddD2/VPLmDUYH__AZ900_Micr.part1.rar
https://uploadgig.com/file/download/bEf23206640967fb/VPLmDUYH__AZ900_Micr.part2.rar
https://uploadgig.com/file/download/8c65B8949f4f5322/VPLmDUYH__AZ900_Micr.part3.rar
https://uploadgig.com/file/download/0a5F8769414F95a2/VPLmDUYH__AZ900_Micr.part4.rar
https://uploadgig.com/file/download/94Ba9D4466fE1ae0/VPLmDUYH__AZ900_Micr.part5.rar
rapidgator
Code:
https://rapidgator.net/file/47bf636bb7abdd58e18bf4651c1d1aab/VPLmDUYH__AZ900_Micr.part1.rar
https://rapidgator.net/file/b15658ebaa243e6aac1f405ed88b363d/VPLmDUYH__AZ900_Micr.part2.rar
https://rapidgator.net/file/c1410e28478bf44cd3ad4f47f240646e/VPLmDUYH__AZ900_Micr.part3.rar
https://rapidgator.net/file/c9cc57fa9861aa2dbf57a0ae7ee2e9bf/VPLmDUYH__AZ900_Micr.part4.rar
https://rapidgator.net/file/e81d761ae18e6cc1636aebc459d0bf7b/VPLmDUYH__AZ900_Micr.part5.rar
nitroflare
Code:
http://nitroflare.com/view/AD733E1E2607718/VPLmDUYH__AZ900_Micr.part1.rar
http://nitroflare.com/view/4A00A758648548F/VPLmDUYH__AZ900_Micr.part2.rar
http://nitroflare.com/view/F499A55C2FD30A1/VPLmDUYH__AZ900_Micr.part3.rar
http://nitroflare.com/view/E29BDA8F65627D1/VPLmDUYH__AZ900_Micr.part4.rar
http://nitroflare.com/view/FF374D6F8FDFB20/VPLmDUYH__AZ900_Micr.part5.rar